Wayward Lines
by Ariana D. Den Bleyker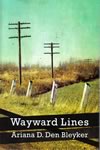 Click to Enlarge
writing sample
The Sacrifice
I have taught myself to do nothing
but hide behind closed doors lighting
candles, down on my hands and knees
mopping up half-hearted prayers.
I'm most blessed after saying penance,
but if I lack emotion or harbor a stuttered
kind of dismissive love, it's from years
spent leveling the foundations of tiny
wooden churches. After our confessions
have lifted themselves over our heads
and risen through the steeples, long after
Easter has gone, you ask what I sacrificed
for my God? To which I reply, my body
in death when I first exhaled your name.
Moving Forward
Your shoulders open to places
that leave us in the dust,
as if I've been looking back
for a million years and you have
moved forward with the speed
of light. We've driven home
down these roads many times,
having to look at ourselves
in dirty mirrors, your solid eyes
closing somewhere in the wind-
shield that has no problem
surviving in any weather.